DESIGN AND DEVELOPMENT OF YOUNG COCONUT SKIN MACHINERY TO SUPPORT FRESH MARKETING OF FRESH YOUNG COCONUT IN THE STATE AND EXPORT
Abstract
The research aims to make the design of a young coconut leather peeler machine to support the marketing of fresh young coconuts domestically and exports. This research is an appropriate technology to help people in young coconut marketing activities sold in the form of fresh or export. This prototype was made simple to be portable and reasonably priced, but the capacity was great and the quality of the results was better. The design approach for designing the machine is using methods compiled by Gerhardt Pahl and Wolfgang Beitz, so that the design approach is based on a functional design approach and structural design approaches. The design stages of this machine include designing and manufacturing of tools, laboratory tests, and field tests. The result of this research is the product of young coconut leather peeling machine to support the marketing of fresh young coconut in the country and export, which is ergonomic, affordable, and ready to be applied, has a working capacity of 80 pieces/hour, the results are more neat and symmetrical compared to manual way.
References
Allorerung D, et al. 2005. Prospects and direction of coconut agribusiness development. Agency for Agricultural Research and development. Department of Agriculture. pp. 1-38.
Barlina, R. 2004. The potential of young coconut fruit for health and processing. Coconut and Palmae Research Institute Kotak Pos 1004 Manado. pp 1-4
Edi P, et al (2019). Modification Of Young Coconut Peeler Equipment Using 1/2 Hp Electric Motor With A Rotation Of 1400 Rpm. Journal Of Applied Science Machine Februari 2019 e-ISSN2597-9140Vol. 2 No. 2.
France, et el. 1990. Mathematical Models in Agriculture. Butterworld Publisher. England. pp 15-50
Haris A, et al (2106). The Manufacture Of Young Coconut Husks, Rotary System. Journal of Agricultural Technology of Gorontalo (JTPG). e-ISSN 2503-2992 Volume 1, Nomor 2, Oktober 2016
Kalpakjian, S. 1991. Manufacturing Processes for Engineering Materials. 2 nd . Addison-Wesley Publishing Company. New York. pp 7-25
Khurmi, R.S. & Gupta, J.K. 2002. Machine Design. S. C Had & Company LTD. New Delhi : Ram Nagar. pp 20-60
Murphy, G. 1950. Similitut in Engineering. The Roland Press Company. New York. pp 8-24
Pahl Gerhard, Beitz Wolfgang. 1984. Engineering Design. The Design Consul London, First dition. pp 25- 100
Santoso U. 2017. Coconut – The wealth of Indonesia. https://kanalpengetahuan.tp.ugm.ac.id/ berita- populer/2017/38-kelapa-kekayaan-indonesia.html. 5 September 2017.
Sritomo, Winjosoebroto. 2000. Evaluasi Ergonomic Dalam Proses Perancangan Produk. Surabaya: Proceding Seminar Nasional Ergonomic, Jurusan TI - ITS. pp 12-35.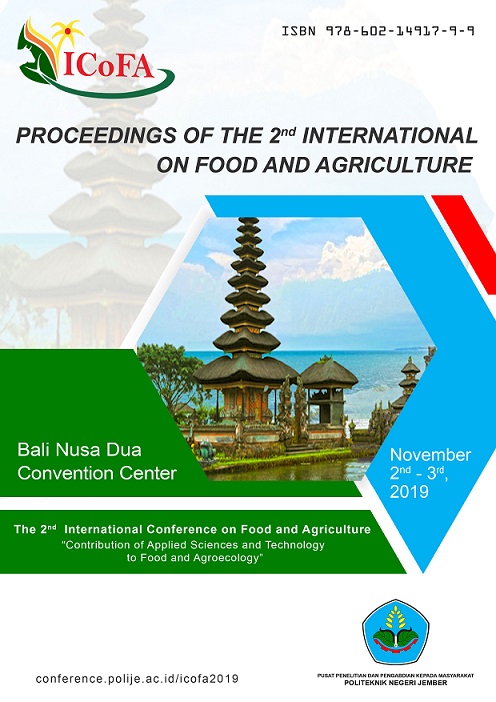 Downloads