IDENTIFICATION OF CORN COMMODITY TO MAINTAIN SUSTAINABILITY OF FOOD SECURITY: STUDY OF CORN COMMODITIES IN JEMBER REGENCY
Abstract
Food security is one of the important concepts of sustainable development which is currently one of the global development vision and mission. Food problems become a consequence for the country (Erwandari, 2017). One sector that is the cornerstone for maintaining food security is the agricultural sector which is the primary sector providing food needs for the Indonesian people who also supports the performance of economic growth. Therefore it is necessary to identify local food commodities with the aim of being able to address and simulate the best strategy to find out local food commodities and maintain their sustainability. Jember is one of the regencies that has an advantage in the agricultural sector, especially for corn. Corn is the second largest commodity after rice in Jember Regency. The purpose of this study is to identify the best strategy for the sustainability of corn commodity food security in Jember with a case study in Arjasa District. The research method used is descriptive analysis using trend analysis, qualitative analysis using Forum Group Discussion (FGD) and AHP method. Based on the results of the analysis it was found that the yield of corn commodity in Arjasa 4,000 tons contributed an average of 9.8% to the Gross Regional Domestic Product (GRDP) of Jember which amounted to 43,000 tons in the last 8 years. In connection with the harvested area of corn commodity each year is quite volatile where this condition is caused by internal factors related to the production process of corn such as planting areas and external factors related to fluctuating corn prices so there is a concern of loss when planting corn. Maize productivity in Arjasa sub-district in the last 8 years on average reached 7.58% higher compared to other districts in Jember. Based on these results collaboration between various parties including farmers, middlemen, government and other parties is needed to strengthen institutions for the creation of food security amid market uncertainty.
References
Badan Pusat Statistik. 2018. Jember Dalam Angka 2018. www.bpsjember.go.id
Erwandari, Nelti. 2017. Implementasi Sustainable Development Goals (SDG's) dalam Meningkatkan Ketahanan Pangan di Provinsi Riau. eJournal Ilmu Hubungan Internasional, 2017, 5 (3) 875-888 ISSN 2477-2623 (online), ISSN 2477-2615 (print), ejournal.hi.fisipunmul.ac.id
Loeb, Susanna.,. Morris, Pamela., Dynarski, Susan., Reardon, Sean., McFarland, Daniel., dan Reber, Sarah. 2017. Descriptive analysis in education: A guide for researchers. NCEE 2017– 4023
Satmalawati, Endah M dan Falo, Marsianus. 2016. Diversifikasi Konsumsi Pangan Pokok Berbasis Potensi Lokal Dalam Mewujudkan Ketahanan Pangan di Kecamatan Insana Barat Kabupaten Timor Tengah Utara NTT. Lembaga Penelitian dan Pemberdayaan Masyarakat (LPPM) Unmas Denpasar.
Warta Ekonomi. Kinerja PDRB Jawa Timur terhadap Nasional. 22 November 2018.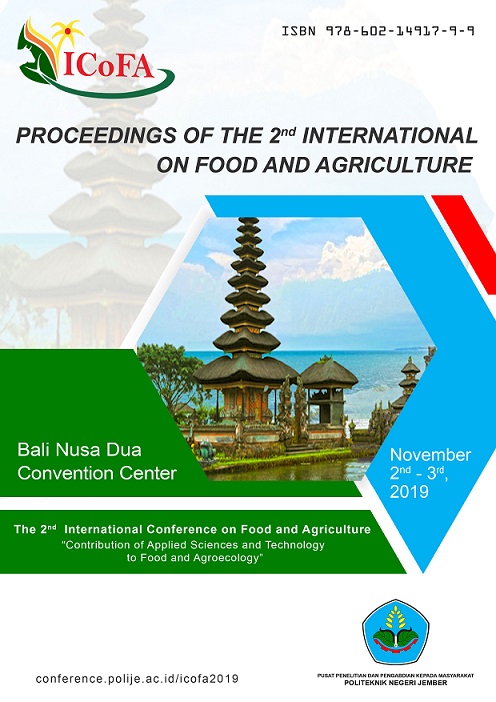 Downloads