MAINTAINING THE PRODUCTION OF OYSTER MUSHROOMS SUPPLY CHAIN THROUGH THE DIVERSIFICATION OF ITS PROCESSED PRODUCTS USING STATISTICAL PROCESS CONTROL (SPC)
Abstract
Oyster Mushroom Farmer Group (KPJT) is a community in Ranupakis and Klakah Village  at  Klakah  District,  Lumajang  Regency  that  has  a  vision  to  maintain  the  business continuity of its members in the cultivation and processing of oyster mushrooms.  This group intervened in the production of oyster mushroom commodities produced especially those that could not be sold freshly by buying it at market prices. Furthermore, to increase its economic value by processing it into several valuable processed products. Increasing the leverage product competitiveness towards similar products, innovation, efficiency and competitive strategies are needed.  Diversification  of  processed  products  is  key  to maintaining  the  supply  of  oyster mushrooms purchased from group members can be resold at a higher value so that the purchase of mushrooms from group members continues. Therefore, the role diversification are needed to be able to contribute various and appeal to the customer processed product oyster mushroom. Among the results of the diversification of processed products oyster mushroom  are shredded mushrooms, steak mushrooms, crackers mushrooms, satay mushrooms, crispy mushrooms, mushroom meatballs, bread mushrooms, and etc. Statistical process control (SPC) used in measuring  and  controlling quality  by  monitoring  the  processing  of  oyster  mushrooms  into several derivative products.
References
. Arias, P., Dankers, C., Liu, P., and Pilkauskas, P., (2003), The World Banana Economy 19852002, Food and Agriculture Organization of the United Nations
. Efraim Turban, Jae Lee, et all, Electronic Commerce: A Managerial Perspective, Prentice Hall, Inc, New Jersey, 2000
. Jeffrey F. Rayport dan Bernard J. Jaworski, E-commerce, McGraw-Hill/Irwin, Singapura, 2001
. Efraim Turban, Jae Lee, et all, Electronic Commerce: A Managerial Perspective, Prentic Hall, Inc, New Jersey, 2000.
. Setyohadi, D.P.S., Riskiawan, H.Y., Hariono, B. and Kurnianto, F.D., 2018. Modeling production schemes for oyster mushroom commodities and their processed products using a supply chain management approach. In Proceeding of the 1st International Conference on Food and Agriculture.
. Rujito, H., Utami, M.M.D. and Riskiawan, H.Y., 2018, October. Community Economic Empowerment and Improvement of Meru Betiri National Park Area through Strengthening Community Institutional Capacity. In 1st International Conference on Social Sciences (ICSS 2018). Atlantis Press.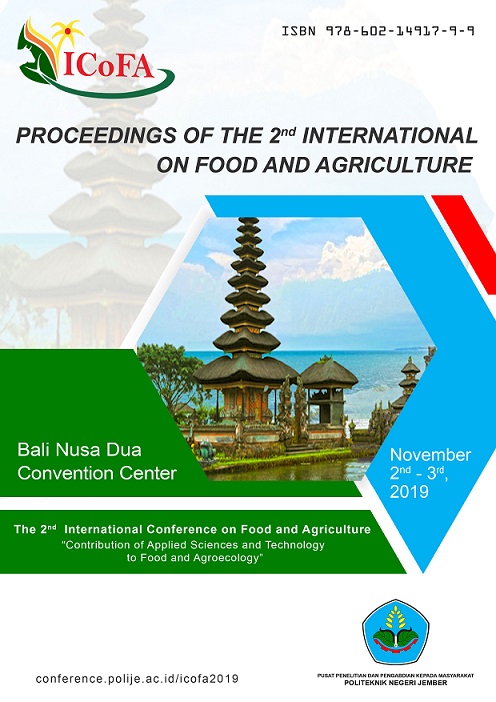 Downloads