PETENTIAL PRODUCTION AND WASTE FOR LIVESTOCK CATTLE FOOD THREE HYBRID MAIZE ON THE YOUNG HARVEST
Abstract
The study was conducted in Sanggalangit Village, Gerokgak Subdistrict, Buleleng- Bali, from May - August 2018. Randomized block design (RBD) was used with 4 replications. Treatments tested were P1 (Bima 20 URI legowo), P2 (Bima 20 URI tegel), P3 (Nasa 29 Legowo), P4 (Nasa 29 tegel), P5 (Bisi 18 tegel) and P6 (Bisi 18 farmers planting). Legowo planting 2: 1 using 100 x 50  x 20 cm spacing with 1 plant /hole, tegel planting (75 x 40 cm) with 2 plants/hole, farmers's way was by hijacking. Result showed yield components of  three corn varieties was significantly different except plant leaves number and cobs number/ plant. P1 and P2 gave  highest weight per plant per hectare with  26.75 t / ha and 26.14 t / ha average significantly higher than other except for P5 (24.82 t / ha). P1 (11.01 t / ha) and P5 (10.56 t / ha) treatments gave significantly different than other except P2 (10.30 t / ha). Farming analysis results showed all treatments are feasible. Highest B / C ratio is produced by P1 (0.92). Increasing profit is caused by additional income from plants slash sold as cattle feed with a contribution reaching 33%.
References
Adnyana, I. M. O. "Analisis ekonomi dalam penelitian sistem usahatani." Latihan Metodologi Penelitian Sistem Usahatani. Badan Litbang Pertanian.
Antara, M. 2012. Analisis Produksi dan Komparatif antara Usahatani Jagung Hibrida dengan Nonhibrida di Kecamatan Palolo Kabupaten Sigi. Agroland 17(1):56-62.
Azrai, M. 2004. Penampilan Varietas Jagung Unggul Baru Bermutu Protein Tinggi di Jawa dan Bali. Buletin Plasma Nutfah 10(2): 49-55.
Basuki, S. dan D. M. Yuwono. 2011. Analisis Nilai Tambah Komoditas Jagung Manis. (Studi Kasus di Kabupeten Temanggung). Prosiding Semiloka Nasional Dukungan Agro-Inovasi untuk Pemberdayaan. Kerjasama UNDIP, BPTP Jateng dan Pemprov Jateng. Hal. 602-610.
Gomez, K.A. dan A.A. Gomez. 1995. Prosedur Statistik Untuk Penelitian. (Syamsudin, E., Baharsyah, J.S., Pentj.). Jakarta: Universitas Indonesia Press. 698 hal.
Harjadi, M.M.S.S. 1979. Pengantar Agronomi. Jakarta: Penerbit PT Gramedia. 197 hal.
Indradewa, D., Kastono, D., Soraya, Y. 2005. Kemungkinan Peningkatan Hasil Jagung dengan Pemendekan Batang. Jurnal Ilmu Pertanian 12(2):117-124.
Kumar, R., J.P. Shabhi and K. Srivastava. 2013. Estimation of heterosis in field corn and sweet corn at marketable stage. The Bioscan 8(4): 1165-1170.
Malian, A. H. 2004. Analisis ekonomi usahatani dan kelayakan finansial teknologi pada skala pengkajian. Pusat Penelitian dan Pengembangan Sosial Ekonomi Pertanian dan Proyek Pengkajian Teknologi Pertanian Partisipatif (The Participating Development of technology Transfer Project (PAATP). Badan Penelitian dan Pengembangan Pertanian.
Nugroho, B. A. 2015. Analisis fungsi Produksi dan Efisiensi Jagung di kecamatan Patean Kabupeten Kendal. Jurnal Ekonomi dan Kebijakan, 8(2):163-177.
Nurwahidah, S., H.D. Dwidjono dan R.W. Lestari. 2015. Technical efficiency of corn in Sumbawa Regency. International Journal of Computer Applications 126(7): 36-40.
Pramono, D.A. 2015. Pengaruh Rasio Beras Jagung (Zea mays L) dengan Tepung Tapioka Terhadap Mutu Kimia dan Sifat Organoleptik Kerupuk Jagung. Skripsi Jurusan Tata BogaFakultas TeknikUM.
Purnomo, J. 2005. Respons of Maize Variety in Low Irradiation. Jurnal Agrosains 7(1):86-93.
Riadi, M., A.M. Jaya, A.T. Makkulawu dan M.H. Said. 2015. Pertumbuhan dan Produksi Jagung Hibrida Hasil Persilangan Antara Jagung Manis Komersial dan Jagung Pulut. Jurnal Agrotan 1(1): 88-99.
Soekartawi. 2002. Analisis Usahatani. UI-Press. Universitas Indonesia.
Swastika, D. K., Kasim, F., Suhariyanto, K., Sudana, W., Hendayana, R., Gerpacio, R. V., & Pingali, P. L. 2004. Maize in Indonesia: production systems, constraints and research priorities. CIMMYT.
Syafruddin, N., dan R. Wati. 2012. Pengaruh Jenis Pupuk Terhadap Pertumbuhan dan Hasil Beberapa Varietas Jagung Manis. Jurnal Floratek 7(1):107-114.
Yasa, M.R. 2012. Model Pengembangan Sapi Bali di Lahan Kering (Studi Kasus Kecamatan Gerokgak, Kabupaten Buleleng, Bali). (Disertasi). Sekolah Pasca Sarjana Institut Pertanian Bogor.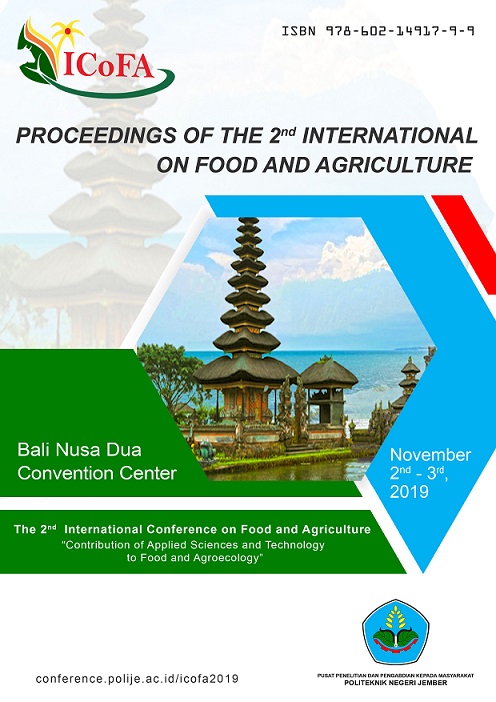 Downloads