LEVEL OF SWINE PRODUCTIVITY ON THE SWINE DEVELOPMENT PROGRAM IN GIANYAR REGION
Abstract
Raising swine for the people of Bali is usually done. Lately it has become a promising business considering that Bali as a tourist destination. Many technological innovations in the field of swine production have been produced but the problem is not all of the technology produced by the IAARD has been reached in the level of users. Therefore an approach is needed to encourages users to be able to apply recommendation technology from IAARD for developing their products. For this reason the purpose of this study was  looked at the impact of technological assistance on the productivity in small holder farmers in Gianyar Regency. The parameters observed were body weight gain feeds consumption and profits gain data were analyzed by t test. The data showed that the body weight of the group of swine that were accompanied technology gave an increase in body weight 17.15% greater than the group of swine that were not accompanied statistically significantly different (P<0.05), on feeds consumption the assisted group of swine consuming less ration rather than the group of swine that were non-assisted (P<0.05). From farming analysis  farmers  group of swine that were accompanied gave a profit greater than the group of swine that were not accompanied,  with B/C of 0.60.
References
Adnyana OM 1989 Analisis Ekonomi dalam Penelitian Sistem Usahatani Latihan Metodologi Penelitian Sistem Usahtani Badan LITBANG Pertanian Jakarta 1989 12p
Budiari LG dan S Guntoro 2015 Pemberian probiotik Dan Enzim Untuk meningkatkan Pertumbuhan babi Peranakan Landrace Di Desa Tua, Kabupaten Tabanan. Majalah Buletin
Dinas Peternakan dan Veteriner Provinsi Bali 2016 Data Populasi Ternak di Provinsi Bali Dinas Peternakan dan Veteriner Provinsi Bali.
Kompyang I P 2009 Pemanfaatan Mikroorganisme sebagai Probiotik untuk meningkatkan Produksi Ternak Unggas di Indonesia Majalah Pengembangan Inovasi Pertanian 2(3) Hal. 177-188
NRC 1998 Nutrient Requirments of Swine.Nutrient Requirments of Domestic Animal Ninth Revised Edition National Academy Press Washingthon DC
Guntoro S, N Suyasa, AA Badung dan M Londra 2008 Pengaruh Pemberian Probiotik (Bio B) Terhadap Pertumbuhan dan Komposisi Kimia Karkas Ayam Pedaging Makalah Seminar Hasil Penelitian- Bappeda tahun 2008 Denpasar 12 Desember 2008 8 hal
Hardyastuti S 2011 Kajian Biaya Produksi Pada Usaha Peternakan Babi Jurnal Sosek Peternakan Unibraw Malang Volume 12 No 1 Malang
Putri TI 2003 Penampilan dan Karakteristik Karkas Babi Bali Diberikan Ransum dengan Taraf Limbah Hotel Berbeda Prosiding Seminar Nasional Revitalisasi Teknologi kreatif dalam mendukung Agibisnis dan Otonomi Daerah.Hal 410-414 Denpasar 7 Oktober 2003 Pusat Penelitian dan pengembangan Sosial Ekonomi Pertanian Badan penelitian dan Pengembangan Pertanian. Departemen Pertanian
Parwati IAP, Luh Gde Budiari dan Nyoman Suyasa 2014 Analisis Usahatani Penggemukan Ternak Babi Dengan Pengaturan Ransum Prosiding Seminar dan Lokakarya Nasional Ternak Babi Peran Peternakan Babi dalam Konstelasi penyedia Pangan Nasional Fakultas Peternakan UNUD
Parwati IAP dan I Nyoman Suyasa 2016 Pengaruh Pemberian Probiotik Terhadap Produktivitas Dan Keuntungan Usahatani Ternak Babi Prosiding Seminar Nasional Pengembangan Pertanian Berkelanjutan yang Adaptif Terhadap Perubahan Iklim Menuju Ketahanan Pangan Dan Energi. Fakultas Pertanian UNRAM
Rivo E. Kojo VVJ, Panelewen M AV dan Manese Nansi Santa 2014 Efisiensi Penggunaan Input Pakan Dan Keuntungan Pada Usaha Ternak Babi Di Kecamatan Tareran Kabupaten Minahasa Selatan Jurnal Zootek (ZootekJournal) Vol 34 No 1 : 62-74
Swastika DSK 2004 Beberapa ternak Analisis dalam penelitian dan pengkajian Teknologi Pertanian Jurnal pengkajian dan pengembangan Teknologi Pertanian Vol 7 N0 1 Januari 2004 Hal 90-103
Sihombing, DTH 2010 Ilmu Ternak Babi. Gadjah Mada University Press Yogyakarta
Soeharsono,Adriani L,Safitri R, Sjofjan O, Abdulah S,Rostika R,Lengkey H A W, A Mushawwir 2010 Probiotik Basis Ilmiah Aplikasi dan Aspek Praktis Penerbit Widya Padjadjaran Bandung
Steel RGD and JH Torrie 1991 Principles and Procedures of Statistics Translated Bambang Sumantri PT Gramedia Pustaka Utama Jakarta.
Santa N 2012 Analisis Pendapatan Usahatani Ternak Babi di Kabupaten Minahasa Jurnal Agropem Volume 1 No 1 Januari 2012 Manado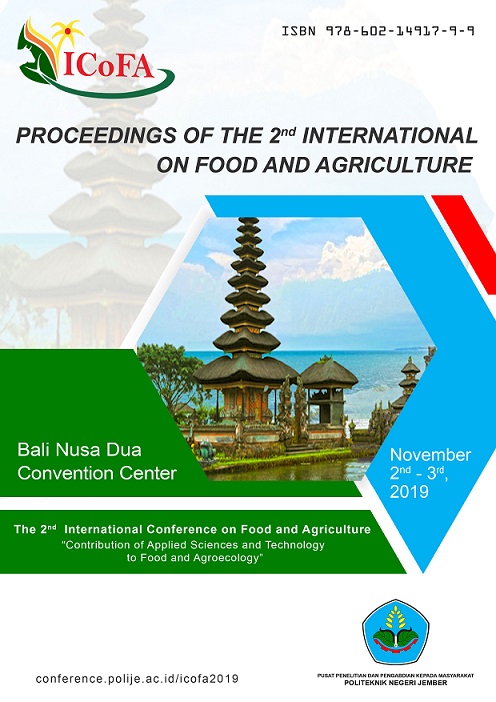 Downloads