MAKING OF NATURAL PLANT GROWTH REGULATOR (PGR) IN THE TELADAN FARMER'S GROUP OF SUMBERJAMBE DISTRICT, JEMBER, EAST JAVA
Abstract
Some organic ingredients are known to contain nutrients and natural plant growth regulators (PGR), such as coconut water, young corn, sprouts, banana weevil, bamboo shoots. These materials are also a substrate for multiplying local microorganisms that are good for the soil. Therefore, the purpose of  this activities in the Teladan's Farmers Group, is to introduce, improve skills and implement local microorganism fermentation technologies (bio activators) using organic materials that contain natural plant growth regulators. This activity uses direct methods and practices for making natural PGR. The training participants attended by 100% participants. Besides, during the extraction and fermentation activities of organic materials, it was seen that participants knew the sequence of procedures for making natural PGR from the results of discussions and questions and answers. The results obtained in the pre-test mean the understanding of natural PGR is 53, while the post-test mean score after implementation is 80. There is a significant increase in participants' knowledge about organic growth regulators.. In practice, about 80% of participants have been able to extract and mix ingredients for the fermentation process. The indicator of successful  the  natural PGR well-fermented material  is characterized by a brown colour and smell sour.
References
Jember District Statistics Central Agency. 2017. " Subdistrict Resources in Figures"
S. N. Tan, J. W. H. Yong, and L. Ge. 2014. "Analyses of phytohormones in coconut (Cocos Nucifera L.) water using capillary electrophoresis-tandem mass spectrometry,†Chromatography, vol. 1, no. 4, pp. 211–226,
R. Bottini, F. Cassán, and P. Piccoli. 2004. "Gibberellin production by bacteria and its involvement in plant growth promotion and yield increase,†Appl. Microbiol. Biotechnol., vol. 65, no. 5, pp. 497–503.
T. Hartanto and Nugroho. 2016. "The Role of Various Natural Cytokinin Sources on In vitro Growth of Barangan Banana (Musa Acuminata)," Sebelas Maret University.
Sudarso, Nelvia, and M. A. Khoiri. 2015. "Provision of Natural Growth Regulatory Substances (PGR) in Palm Oil Seeds (Elaeis Guineensis Jacq) in Main-nursery," Online Journals of Agrobusiness Faculty, Riau University, vol. 2, no. 2, pp. 1–7.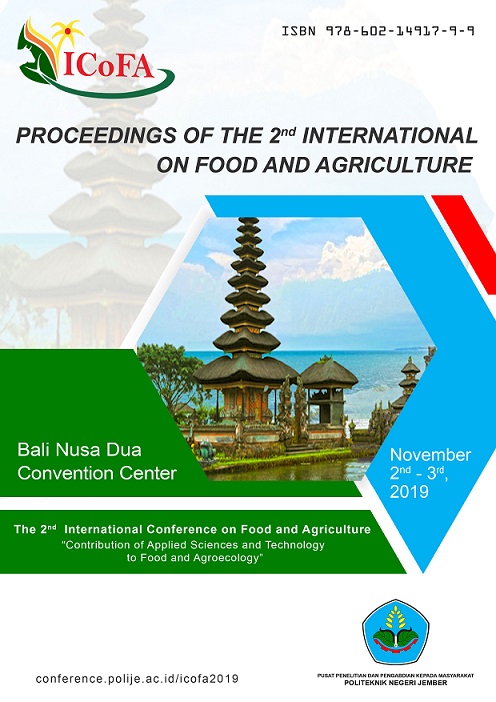 Downloads