BISCUIT ORGANOLEPTIC TEST OF DRAGON FRUIT (HYLOCEREUS POLYRHIZUS) AND MORINGALEAVES FOR ANEMIA
Abstract
Anemia becomes an unsolved nutritional problem, the prevalence of anemia in adolescent girls increased continuously. Anemia in adolescents at 2018 reached 48.9%. The high prevalence of anemia  is  caused  by:  chronic  blood  loss,  insufficient  iron  intake,  inadequate  absorption, consumed  some  drugs  that  inhibit  iron  absorption, increased  need  for  iron.  There  have  been many studies on processed food products and drinks made from fruits and vegetables, one of become a trend since 2009 is dragon fruit (hylocereus polyrhizus). In addition to dragon fruit, Moringa leaves one vegetable has a fairly complex nutritional content, one of is iron. Although there  are  many  formulas  of  dragon  fruit,  but  the  study  of fortification  of  dragon  fruit with moringa  leaves  has  never  been  done.  The  addition  of moringa  leaves extract  will  affect  the aroma,  taste,  color,  texture,  so  it  is  necessary  to find the appropriate composition  of dragon fruit skimmed addition and moringa leaves extract. So organoleptic testing will determine the acceptance  of dragon  fruit  and moringa  leaves fortification  products.  Organoleptic  test using completely  randomized  design  (CRD),  with  a  total  of  4  treatments.  Data analyzed  non- parametric using Kruskall Wallis and Mann Whitney tests with alpha 0.05. Results showed the fortification  of  10% hylocereus  polyrhizus and  5%  Moringa  leaves  are  the  best  and  most preferred formula.
References
Kementerian Riset Teknologi dan Pendidikan Tinggi, "Rencana Induk Riset Nasional Tahun 2017-2045,†Jakarta, 2017.
R. Kementrian Kesehatan, "Riset kesehatan dasar,†Jakarta, 2013.
K. K. Ri, "Pedoman Gizi Seimbang,†2018.
M. B. Arisman, Gizi dalam daur kehidupan. Jakarta: EGC, 2004.
R. I. Departemen Kesehatan, "Uji aktivitas antioksidan ekstrak ( Komoditas Buah Naga Di Kabupaten Jember,†Buah naga, trend produksi, prospek perkembangan, efisiensi Pemasar., vol. 3, no. 2, pp. 1–8, 2009.
E. I. Bamishaiye, F. F. Olayemi, E. F. Awagu, and O. M. Bamshaiye, "Proximate and Phytochemical Composition of Moringa oleifera Leaves at Three Stages of Maturation,†Sport. Exerc. Res., vol. 12, no. 1, pp. 233–237, Mar. 2011.
I. Kurniawati and M. Fitriyya, "Karakteristik Tepung Daun Kelor Dengan Metode Pengeringan Sinar Matahari,†vol. 1, pp. 238–243, 2018.
S. T. Soekarto, Penilaian organoleptik: untuk industri pangan dan hasil pertanian. Jakarta: Bhratara Karya Aksara, 1985.
M. M. Syahadah, "FORMULASI SOSIS HATI AYAM DAN WORTEL (
Rudianto, S. Aminuddin, and A. Sriah, "Studi Pembuatan Dan Analisis Zat Gizi Pada Produk Biskuit Moringa Oleifera Dengan Subtitusi Tepung Daun Kelor,†Universitas Hasanuddin, 2013.
F. G. Winarno and S. Koswara, Telur: komposisi, penanganan dan pengolahannya. Bogor: MBrio Press,2002.
F. . Winarno, Kimia Pangan dan Gizi. Yogyakarta: Universitas Gadjah Mada, 2004.
W. P. Rahayu, Petunjuk Penilaian Organoleptik. Bogor: Fakultas Teknologi Pertanian IPB, 1998.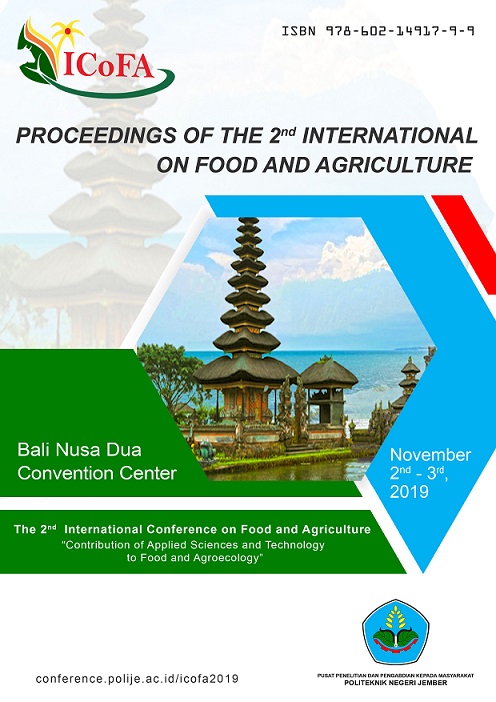 Downloads