NITROGEN LEVELS OF GOAT MANURE AND CHICKEN EXCRETA BIOCULTURE WITH ADDITION OF GRADUAL YOUNG COCONUT HUSK WASTE
Abstract
Indonesia is an agricultural country where farming is the main occupation of its people. Therefore fertilizer becomes an indispensable item. At present, the majority of fertilizer used is met by chemical fertilizer. Long term application of chemical fertilizer and low content of micronutrients in common fertilizer causes quality degradation of the chemical, physical, and biological properties of the soil. Organic fertilizer is one of the strategic solutions to overcome these problems. Agricultural and livestock waste, including coconut husk, goat manure, and chicken excreta can be used as potential raw material for liquid organic fertilizer. The experiment was aimed to identify the best composition of coconut husk addition in liquid organic fertilizer. Various compositions of coconut husk used were 0; 0.65; 1.25; 2.5; and 5%. The analysis method was used One-Way Annova. Fermentation was carried out for one week in anaerobic conditions. Ammonium, nitrate, and nitrite levels of bioculture with the addition of 5% young coconut husk were significantly higher than other treatments, which obtained values 0.139; 0.705; and 0.523% respectively. The bioculture made has not met the quality of liquid fertilizer as in Standar Nasional Indonesia
References
Badan Pusat Statistik 2018 Hasil Survey Pertanian Antar Sensus Statistik. Jakata ISBN 978-602-438-255-1.
Hartatik W, and L R Widowati 2006 Pupuk Organik dan Pupuk Hayati Balai Besar Penelitian dan Pengembangan Sumberdaya Lahan Pertanian. Bogor
Moral R, M Caselles, M D P Murcia, A. P. Espinosa, B Rufete, dan C Paredes. 2004. Characterisation of the Organic Matter Pool in Manures. Elsevier Bioresource Technology 96: 153
Yuwanta T 2004 Dasar Ternak Unggas. Yogyakarta : Penerbit Kanisius.
Priyadi, D.A. 2015. Pengaruh Penambahan Ekskreta Ayam terhadap Kadar C-organik, N, P, dan K Biokultur Feses Kambing dengan Fermentasi Aerob dan Anaerob. Skripsi Fakultas Peternakan Universitas Gadjah Mada. Yogyakata.
Sabri, Y. 2017. Pengaruh Pemberian Pupuk Organik Cair dari Sabut Kelapa dan Bokashi Cair dari Kotoran Ayam terhadap Pertumbuhan Tanaman Sawi Caisim
Kurniawan E Z, Ginting P, and P. Nurjanah. 2017. Pemanfaatan Urine Kambing pada Pembuatan Pupuk Organik Cair terhadap Kualitas Unsur Hara Makro
Sashanti, K.H.S.J. 2013. Pengaruh Penggunaan Abu Vulkanik Terhadap Kualitas Biokultur Feses Kambing dan Domba. Skripsi Fakultas Peternakan Universitas Gadjah Mada. Yogyakarta.
Balai Pengkajian Teknologi Pertanian Bali 2013 Membuat Pupuk Cair Bermutu dari Limbah Kambing. Warta Penelitian dan Pengembangan Pertanian 30 7.
Sholikah, M. H., Suyono, dan P. R. Wikandari. 2013. Efektivitas Kandungan Unsur Hara N pada Pupuk Kandang Hasil Fermentasi Kotoran Ayam Terhadap Pertumbuhan Tanaman Terung
Bonneau X, I haryanto, and T Karsiwan. 2010. Coconut Husk Ash as A Fertilizer For Coconut Palms on Peat. Expl. Agric. 46 (
Griffiths, A.J.F., S.R. Wessler, S.B. Carroll, dan J. Doebley. 2012. Introduction to Genetic Analysis 10th Edition. W.H. Freeman and Company. New York. Amerika.
Istanti, A. 2017. Pengaruh Nitrogen dan Molibdenum terhadap Aktivitas Enzim Asimilasi Nitrogen, Pertumbuhan Dan Hasil Pada Tanaman Padi Hitam. Tesis. Fakultas Pertanian. Universitas Jember.
Purwati A D, 2017. Uji Kandungan N dan Pupuk Organik Cair Kombinasi Batang Pisang dan Sabut Kelapa dengan Penambahan Kotoran Ayam sebagai Bioaktivator. Skripsi. Program Studi Pendidikan Biologi Fakultas Keguruan dan Ilmu Pendidikan Universitas Muhamadiyah Surakarta.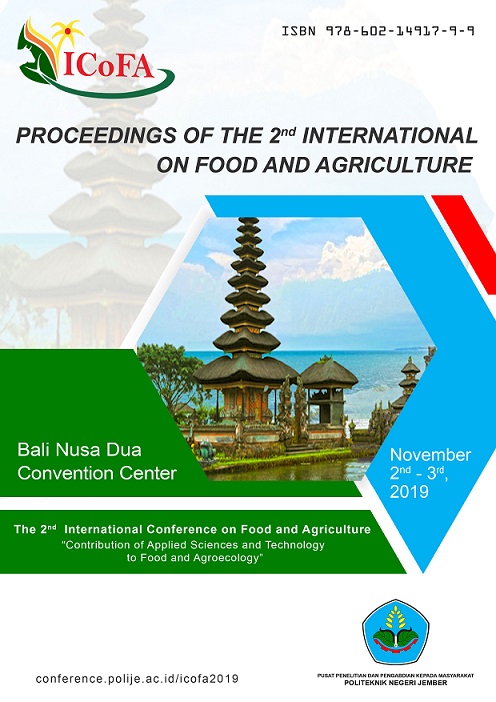 Downloads