QUALITY OF LACTOBACILLUS PLANTARUM YN 1.3, LACTOBACILLUS PENTOSUS YN 1.6 AND L.PLANTARUM YN 1.1. AFTER FREEZE DRYING UTILIZING A DIFFERENT B INDING AGENT, AS PROBIOTIC BACTERIA ISOLATED FROM GOAT MILK.
Abstract
Probiotic are living microorganisms if consumed will be provided a therapeutic effect on healthy consumers by improving the microflora balance in digestive tracts. The utilization of probiotics could be implemented by using varied applications which would provide benefits for either human or animal health. The aims of this study were to evaluate the quality of Lactic acid bacteria (LAB) as probiotic such as Lactobacillus plantarum YN 1.3 and Lactobacillus pentosus YN 1.6 and L.plantarum YN 1.1. after freeze drying used Zinc and different binding agents. The binding agent is used ie maltodextrin, rice flour and skim milk. The results of this experiment showed that LABdecrease after freeze drying where L. plantarum YN 1.3Â  Â  utilizing maltodextrin decrease 1.21 (Log cfu / g), utilizing rice flour decreased 1.66 (Log cfu / g) and utilizing skim milk LAB decrease 1.04 (Log cfu / g ). LAB of L. pentosus YN 1.6 utilizing maltodextrin decrease 1.25 (Log cfu / g), utilizing rice flour decrease 2.11 (Log cfu / g) and utilizing skim milk decrease 1.00 (Log cfu / g). Although total lactic acid bacteria was decreased after freeze drying, but overall dried culture still better as probiotic bacteria. Anti microbial activity of starter culture showed that Probiotic bacteria have the ability to inhibit all of indicator bacteria such as Salmonella, E. coli, S. aureus and B. cereus as pathogens bacteria. Evaluation for color showed that dry culture used maltodextrin given the best appearance. The conclution of this research is that probiotic bacteria L. plantarum YN 1.3 with zinc and maltodextrin as binding agent is the best product after freeze dryng.
References
. Salminen, S, Isolauri, E., E, Salminen,R, 1996. Clinical uses of Probiotics for Stabilizing The
Gut Mucosal Barrier. Successful Strains and Future Challenges Ant Leeuwenhoek. 70. 347-358.
. Shimakawa Y, Matsubara S, Yuki N, Ikeda M and Ishikawa F. 2003. Evaluation Of
Bifidobacterium breve Strain Yakult- Fermented Sotmilk As Probiotic Food. Int J. Food
Microbiol. 81 (2) _ 131-136.
. Yelnetty, A. 2000. Yoghurt Santan Kelapa Sebagai Makanan Tambahan Pada Anak- anak
Malnutrisi .Laporan akhir Penelitian DCRG.Direktorat Jenderal Pendidikan Tinggi Departemen
Pendidikan Nasional 2000-2001
. Yelnetty, A. 2004 Pengaruh persentase kultur starter terhadap karakteristik yoghurt santan
kelapa. J Zootek. Vol 16. 27-30
. Yuan Kun Lee.2009. Effective Dosage For Probiotic Effects. Hand Book Of Probiotic
and Prebiotic. Sec. Eds (II). P 52-55. Dept Of Microbiology. Univ. Of Singapore.
. Zubillaga M, Weill R. Postaire E. Goldman C. Caro R and Boccio J. 2001. Effects of Probiotics
and Fungtional Foods and Their Use in Different Diseases. Nutrition Research 21; 569 579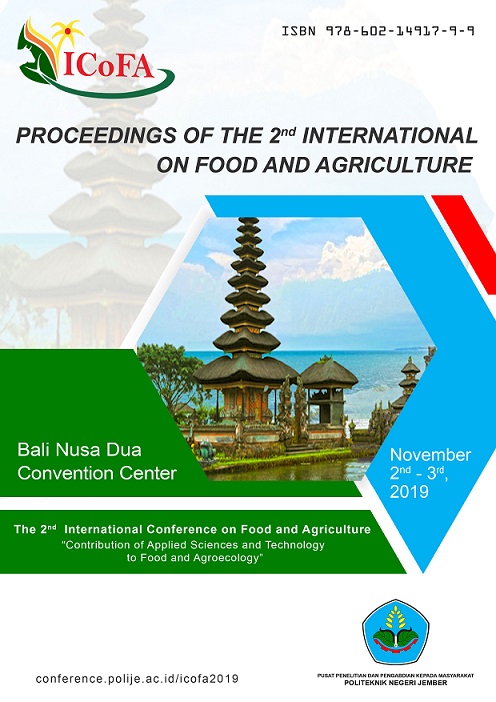 Downloads