IMPLEMENTATION OF GOOD MANUFACTURING PRACTICE (GMP) ON COCONUT PALM SUGAR PROCESSING AT CRAFTSMEN BUSINESS GROUP IN WONOSOBO-BANYUWANGI VILLAGE AS A HELICOS CENTER
Abstract
The partner village development program (PPDM) has been carried out about the production of palm sugar from coconut sap in the village of Wonosobo, Banyuwangi Regency as a college partner. This activity is intended to assist government programs in the development of coconut sugar products into Healthy Coconut Sugar (Helicos) products.The activity aims to increase knowledge and skill of crafment to produce coconut palm sugar based on the standards of Good Manufacturing Practice (GMP) and Hazard Analysis and Critical Control Poinst (HACCP). Community service is carried out by coaching partners through diversification of coconut sugar products into Helicos ants, improving product quality by applying hygine-sanitation, occupational health and safety (OHC) during harvesting, processing and packing. The result showed that the activity : 1) knowledge of craftsmen GMP and HACCP are good, but implementation of GMP and HACCP on coconut palm sugar processing at Wonosobo village can not fully implemented. 2) ability to produce coconut ants sugar by crystallization method using a crystalliser, cabinet driyng and grinding machine and packing mechine. 3) craftsmen understanding of the importance of joint centures in groups is good. The use of tools or machines in the manufacture of coconut ants sugar will help increase production capacity, and maintain the quality of palm sugar. These is expected increase income, consumer acceptance and expand marketing. The proximate analysis of the coconut palm sugar by randoms sampling for three time production showed the contains 2,55% moisture, 1,81% total ash, 0,6 % crude fat, 0,28% crude protein and total solid was 48,6%.  Glicemic index of coconut palm sugar was 53, while the crytal sugar was 100. Sensory analysis by preference level showed that coconut palm sugar had likely score for color, odor, taste and texture.
References
. Badan Pusat Statistik. 2018. Produksi Tanaman Perkebunan Menurut Propinsi dan Jenis Tanaman, Indonesia. https://www.bps.go.id/dynamictable/2015/09/04/839/produksi-tanaman- perkebunan-menurut-propinsi-dan-jenis-tanaman-indonesia-000-ton-2012-2017-.html (Diakses 1 September 2018)
. Badan Pusat Statistik Kabupaten Banyuwangi. 2015. Statistik Daerah Kecamatan Srono. Banyuwangi. https://banyuwangikab.bps.go.id/website/pdf_publikasi/Statistik-Daerah- Kecamatan- Srono-Tahun-2015--.pdf (Diakses 1 Agustus 2017)
. Mustaufik dan Haryanti, P. 2006. Evaluasi Keamanan Pangan dan Penyimpangan Mutu Gula Kelapa Kristal di Kawasan Home Industri Gula Kelapa Kabupaten Purbalingga. Lembaga Penelitian dan Pengabdian Kepada Masyarakat UNSOED.
. Pitoko, RA. 2018. Melonjak 27 Persen, Ekspor Gula Semut Nasional Capai 48.000 Dollar. https://ekonomi.kompas.com/read/2018/05/09/110000926/melonjak-27-persen-ekspor-gula- semut- nasional-capai-48.000-dollar-as. (Diakses 1 September 2018)
. Suliyanto, Suroso, A, Rosyad, A, Rokhman, A, Budiarti, L dan Jati, D.P. 2013. Usaha Mikro Kecil dan Menengah (UMKM) Gula Kelapa: Potensi, Masalah dan Teknologi. UPT Percetakan UNSOED.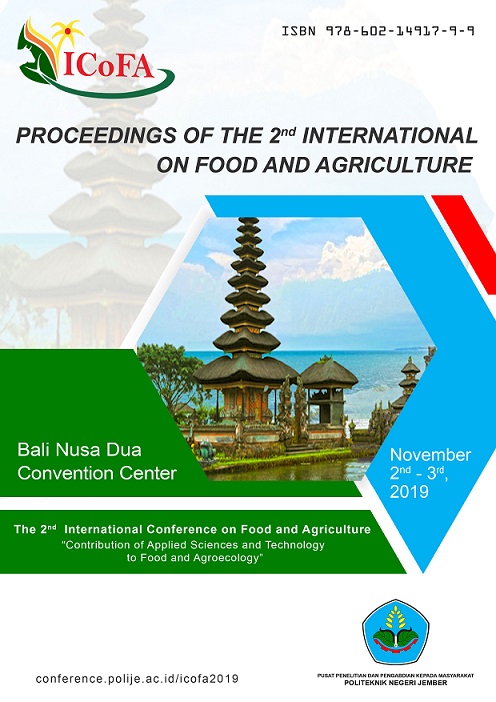 Downloads