IMPLEMENTATION AND ASSESSMENT OF FOOD SAFETY SYSTEM IN A SMALL DAIRY PLANT AT KALIGONDO AREA, BANYUWANGI, EAST JAVA, INDONESIA
Abstract
This article aims to present the results of implementation and assessment of food safety system in a small dairy plant located in Kaligondo Area, Banyuwangi, East Java, Indonesia. A small dairy plant has developed by two groups of dairy cow farmers, Sumber Lumintu and Sido Makmur, and produces pasteurized fresh milk and its derivatives. There are some steps to implement food safety system including a diagnosis of prerequisites based on BPOM requirements, implementation of good manufacturing practices (GMPs), sanitation standard operating procedures (SSOPs), and hazard analysis and critical control point (HACCP). Assessment results of initial diagnosis showed that conformity of 59 items observed achieved 76,1%. GMP, SSOP, and HACCP had met requirements for Kaligondo dairy plant. However, the main difficulties encountered for the implementation of food safety system were related to the implementation of actions established in the flow chart and to the need for constant training/adherence of the workers to the system. Despite this, the implementation of the food safety system was shown to be challenging, but feasible to be reached by small-scale food industries in Kaligondo area.
References
Bata, D., Drosinos, E. H., Athanasopoulos, P., & Spathis, P. (2006). Cost of GHP improvement and HACCP adoption of an airline catering company. Food control, 17(5), 414-419.
De Oliveira, C. A. F., Da Cruz, A. G., Tavolaro, P., & Corassin, C. H. (2016). Food Safety: Good Manufacturing Practices (GMP), Sanitation Standard Operating Procedures (SSOP), Hazard Analysis and Critical Control Point (HACCP). In Antimicrobial food packaging (pp. 129-139). Academic Press.
International Commission on Microbiological Specifications for Foods. (1990). Application ofthe Hazard Analysis Critical Control Point (HACCP) System to Ensure Microbiological Safety and Quality. Blackwell scientific publications.
Commisssion, C. A. (1997). Hazard analysis and critical control point (HACCP) system and guidelines for its application. Annex to CAC/RCP, 3, 1-1969.
Codex, A. (1997). Hazard Analysis and Critical Control Point (HACCP) System and Guidelines for Its Application. Annex to CAC/RCP 1-1969, Rev. 3.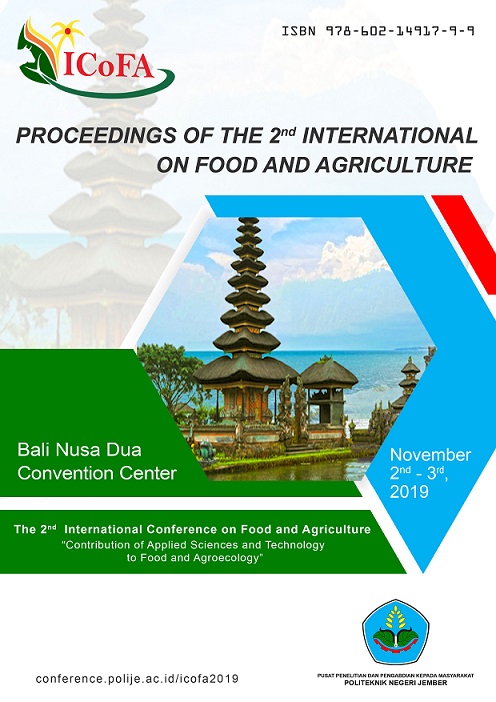 Downloads