FERTILIZER AND WATER EFFICIENCY IN CITRUS PLANTS USING FERTILIZER IRRIGATION MOBILE CONTROL
Abstract
Citrus plants have a high growth response. Regular fertilization is needed to serve the high growth response. One of the important things in the cultivation of citrus plants is recognizing the need for fertilizers and water in accordance with the stages of growth of citrus plants Indonesian citrus farmers still rely on conventional fertilization and irrigation. They spreading fertilizer around the citrus plant and flush the water around it. This process of fertilization and irrigation needs more fertilizer and high cost because its need many labors to do it. This research proposes a system to control fertilization and irrigation automatically thus the farmers can reduce production costs.
References
P. Panigrahi and A. K. Srivastava, "Water and nutrient management effects on water use and yield of drip irrigated citrus in vertisol under a sub-humid region,†J. Integr. Agric., vol. 16, no. 5, pp. 1184–1194, May 2017.
J. C. Melgar, A. W. Schumann, and J. P. Syvertsen, "Fertigation frequency affects growth and water and nitrogen use efficiencies of swingle citrumelo citrus rootstock seedlings,†HortScience, vol. 45, no. 8, pp. 1255–1259, 2010.
K. T. Morgan, T. A. Obreza, and E. A. Hanlon, "Citrus water requirements: linking irrigation scheduling and fertilizer strategies,†Proc. Fla. State Hort. Soc., vol. 120, pp. 67–73, 2007.
P. S. Shirgure, "Micro-irrigation systems, automation and fertigation in citrus,†Sci. J. Rev., vol. 1, no. 5, pp. 156–169, 2012.
Gagandeep, D. Arora, and H. S. Saini, "Design and implementation of an automatic irrigation feedback control system based on monitoring of soil moisture,†Proc. Int. Conf. Inven. Comput. Informatics, ICICI 2017, no. April 2017, pp. 540–544, 2018.
M. A. Abdurrahman, G. Mehari, G. & Tsigabu, and T. Bezabih, "Sensor Based Automatic Irrigation Management System,†Int. J. Comput. Inf. Technol., vol. 04, no. 03, pp. 2279–764, 2015.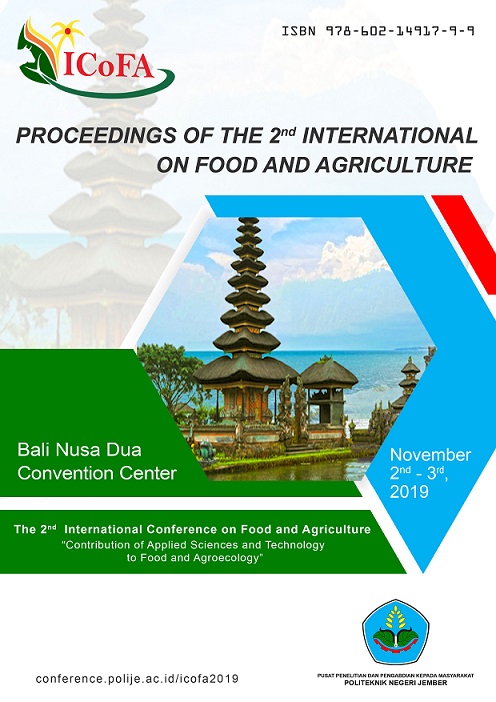 Downloads