APPLICATION OF AUTOMATIC HATCHING MACHINE TECHNOLOGY IN SOLO DUCK CATTLE COMMUNITY AT DESA BALET BARU, KECAMATAN SUKOWONO - KABUPATEN JEMBER
Abstract
The demand for duck meat and egg in Jember district is quite high. This must be balanced with the production of high ducklings as well. Solo duck cattle community in Balet Baru Village, Sukowono Subdistrict, Jember District is engaged in the business of hatching both laying and broiler duck. In this business traditional hatching machines are still used and have a small capacity. The solution to the problem faced is to implement an automatic hatching machine that has high hatchability and production capacity. The results obtained from this activity are a technology package in the form of an automatic setter machine, a candling box, and an automatic hatcher machine. The setter and hatcher machine is equipped with an automatic control system and has a maximum capacity of 1200 eggs, while for the observation box has a maximum capacity of 49 eggs. In the setter machine is also equipped with a reversing lever to flatten the heat coming from incandescent lamps and heaters. The test results that hatchability for this machine is 82.6% with hatching time for 28 days. The partner of this community service is pleased with the technology applied in the area and hoping that his business is growing much better.
References
Ahaya, R. dan Akuba, S. 2018. Rancang Bangun Alat Penetas Telur Semi Otomatis. Jurnal Teknologi Pertanian Gorontalo (JTPG). Vol. 3, No. 1. p-ISSN 2502-485X pp. 44-50
Incubators, S. D. 2019. Sukses Menetaskan Telur Unggas Hingga 90 %. PT. Agro Media Pustaka. Jakarta Selatan.
Kaleka, N. 2015. Beternak Itik Tanpa Bau Tanpa Angon. Arcitra. Yogyakarta
Karsid, Ramadhan, A. W., dan Azis, R. 2018. Perbandingan Kinerja Mesin Penetas Telur Otomatis Dengan Menggunakan Kontrol On-Off Dan Kontrol PWM. Jurnal Matrix. Vol. 8 No. 1. Maret 2018 pp. 1 – 5.
Mito dan Johan. 2011. Usaha Penetasan Telur Itik. PT. Agro Media Pustaka. Jakarta Selatan.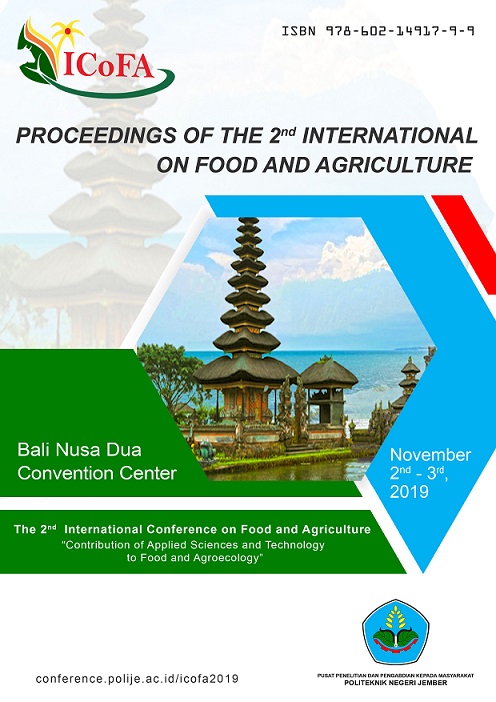 Downloads