STRATEGY TO IMPROVE THE VALUE CHAIN OF NAOOGST TOBACCO AGRIBUSINESS
Abstract
Identification of the value chain in Naa-oogst (NO) tobacco agribusiness provides information on the level of importance or need for value chain development. Which shows that there is an institutional structure that can facilitate strengthening of farmers in general through the institutional roles carried out by each institution. Some conditions of partnership between companies and farmers and the role of institutions require efforts to set appropriate strategies to determine how the value chain can be improved. So it can provide and guarantee guarantee for the increase in the income of the agribusiness value chain supply chain actors. Based on the description, this study aims at: (a) describing the most important criteria of improving value chain performance, and (b) what is the best strategy for improving the value chain in NO tobacco agribusiness chains. The results showed (i) Increasing the empowerment of farmers in the NO tobacco supply chain and suppressing uncertainty about farmers' NO Tobacco prices, (ii) a combination strategy between partnerships between farmers and exporters and at the same time being followed by institutional strengthening of farmer groups such as the JTFA (Jember Tobacco Farmers Association).
References
Santoso K 2013 IndustriIHasiltembakauJatImPasok 60 PersenKebutuhan Nasional PTPN-X magazine, Vol. 008 April – Juni
Prasetya L E 2013 Teknik Budidaya Tembakau Kasturi. http://Budidaya Tembakau Kasturi_Teknik Budidaya Tembakau Kasturi.html (12 September 2015).
Said E, Rachmayanti, and Muttaqin M Z 2003 Manajemen Teknologi Agribisnis.(Jakarta: Penerbit Ghalia Industri).
Tonny N F 2014 Pengembangan Masyarakat (Jakarta: Yayasan Pustaka Obor Indonesia).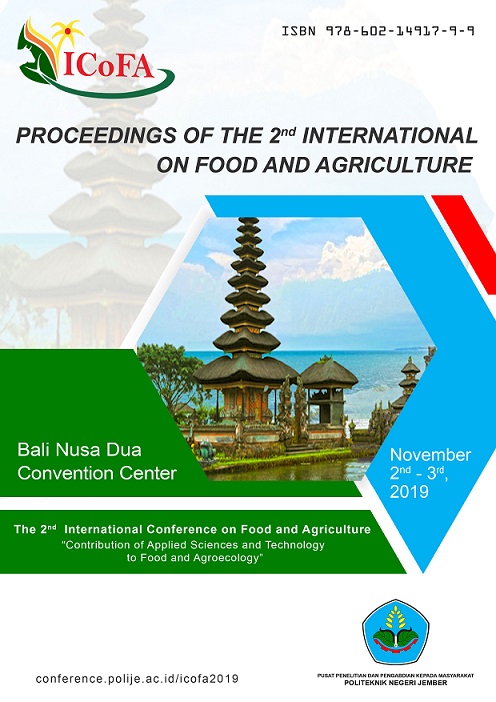 Downloads