THE IMPACT OF CLIMATE CHANGE ON THE PRODUCTION OF FOOD AND VEGETABLE COMMODITIES IN JEMBER REGENCY
Abstract
The purpose of this study is to find out how climate change is affecting production in  Jember  Regency,  specifically  production  centers  (Sumberbaru  District,  Bangsalsari District, Wuluhan District, Panti District and Tempurejo District). Climate variables are able to  influence  the  production  of  rice  and  eggplant,  to  reduce  the  effect  of  climate  change, several controllable variables are used in research panel data, in order to be able to reduce the  effects  of  climate  change. From  the  analysis  it  can  be  seen that  climate  change  / uncontrolled variables (temperature, rainfall and humidity) in general and controlled variables (harvested area and subsidized fertilizer) are influential in Jember Regency. Based on climate change data that occur every year per planting season is not too different or tends to be constant. Thus, there is no extreme climate change in Jember Regency.
References
Denisa, J. 2015. Pengaruh Perubahan Iklim Terhadap Produksi Padi Sawah di Kabupaten Deli Serdang. Medan : Universitas Sumatera Utara.
Festiani, R A. 2011. Dampak Perubahan Iklim Terhadap Pendapatan dan Produksi Padi Sawah
FAO, 2007. Climate Change and Food Security: A Framework Document- Summary. The Food and Agriculture Organization of The United Nations, Rome.
Gujarati, D. 2003. Ekonometrika Dasar. Terjemahan: Sumarno Zain, Jakarta: Erlangga
Grist. 1960. Budidaya Tanaman Padi. Yogyakarta: Kanisius.
Ferguson, Hill, and Hansen. 1990. Journal of Information Systems, Spring 1990, page 82.
Hernanto, F. 1993. Ilmu Usaha Tani. Jakarta: Penebar Swadaya.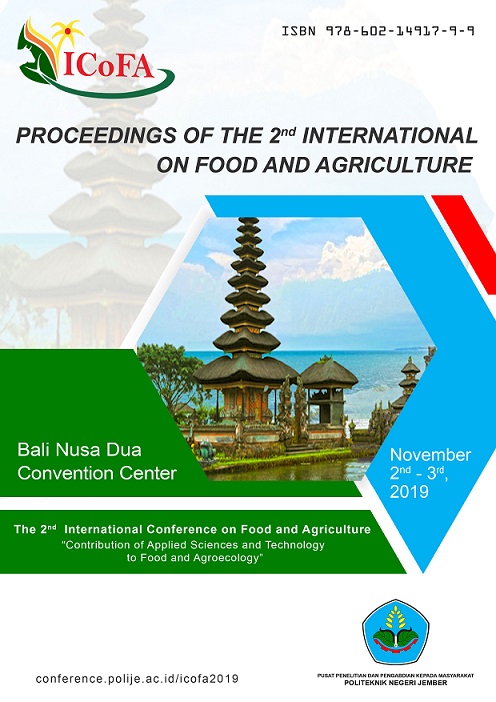 Downloads